Minnesota is one of the best places to spend some quality time with your family in some of the beautiful family resorts present here. There are number of family resorts present all over Minnesota. One of the primary reasons being Minnesota is home to more than 10,000 lakes giving a great view from resorts situated anywhere. It's popularly known as "The Land of 10,000 lakes". Finding the best resorts for family is a tough task. We need to think about many things such as comfort,fun activities,security, accommodation etc.. before booking the resort. We have selected some of the best family resorts in Minnesota based on positive reviews of people actually visiting there. High ratings from actual people always makes sure that we are going at the right place. 
Let's have a look on best family resorts in Minnesota:
Grand View Lodge ( Nisswa ) 
Address: 23521 Nokomis Ave, Nisswa, MN 56468, United States
Grand View Lodge Golf Resort & Spa is located 14.9 miles from downtown Brainerd overlooking Gul lake in Nisswa. It's considered as one of the best resorts in Minnesota spreading over hundreds of acres. Different types of lodging is provided in selected areas of the resort for maximum security, scenic view, enjoyment and comfort. Depending upon your choice and family size you can select cabins, villas, cottages, clubhouse suits, golf villas etc.. You can visit this place with your family and friends. The Grand view lodge provides a number of fun things to do for kids as well such as horse wagon ride, pool, water slide, bounce houses and arcade house. You will get a great buffet as well. You can try out Roy lake cabins as they are fabulous.The most important part is that it's totally affordable with all the facilities.
2. Breezy Point Resort (Breezy Point)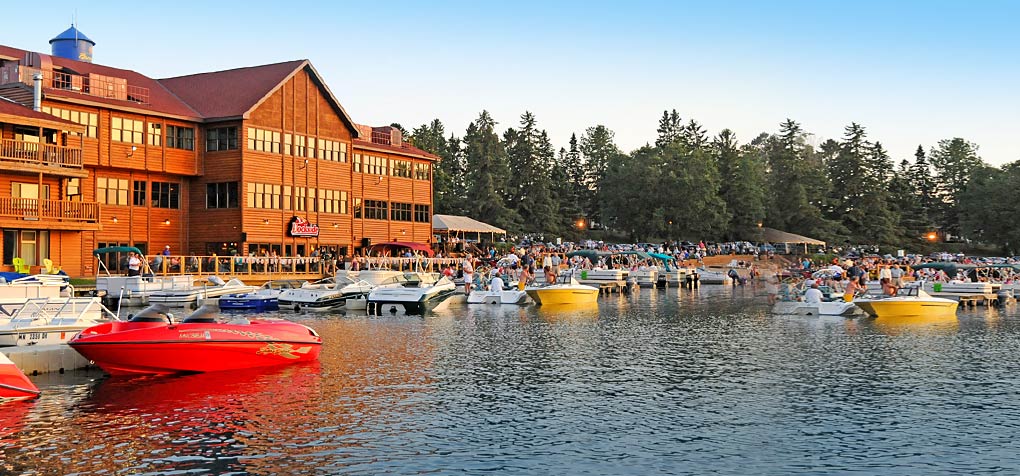 Address: 9252 Breezy Point Dr, Pequot Lakes, MN 56472, United States
Breezy Point resort is located around 19.3 miles from downtown Brainerd overlooking Pelican lake. This resort is the number one resort in Breezy Point. Families and friends like to visit this place again and again because of fun activities such as table tennis,fishing,golf,billiards, bubble hockey,lake activities and other helpful services. They offer different kind of rooms to pick from. You can choose according to the number of people. The rooms are very much clean, quite and comfortable with all the services. Staff is very cooperative and nice. You will get some amazing food at Dockside. They have happy hours for guests. That sounds cool. Right?
Tip: Resort rates are high from Fri-Sat. It's low from booking from Sun-Thur. Do check the rates before booking.
3. Larsmont Cottages on Lake Superior (Two Harbors)
Address: 596 Larsmont Way, Two Harbors, MN 55616, United States
Larsmont Cottages Resort is the number 1 resort in Two Harbors area. It is located around 18.6 miles from Gooseberry Falls State Park overlooking Lake Superior. I won't say that it's a super luxury resort to stay but the facilities provided by the Larsmont Cottages resort is pretty much good at affordable rate. The place is really good for families and couples. Cottages are very well decorated along with facilities like TV with great speaker system. All the cottages are clean, modern, comfortable and spacious. Amenities like spa,sauna, indoor pool with hot tub, free wifi, free bike rental is available at the resort.
Tip: To have amazing view of the lake, Pay for the Lake Side rooms.
4. Northern Lights Resort & Outfitting (Kabetogama)
Address: 10179 Bay Club Dr, Kabetogama, MN 56669, United States
Northern lights resort is located 31 miles from international falls and Canadian border in Voyaguers National Park on Kabetogama Lake in Minnesota. It's one of the top family resorts in the reason and number 1 in whole Kabetogama area. Spending your time on a vacation at this resort will make you feel really good. There are number of different types of cabins available to choose from according to your needs. You don't need to worry at all even if you have a bigger family. It's perfect for families and couples. Free wifi, decks, fireplaces, hot tub etc… facilities are available. Activities like swimming, water climbing tower, beach vollyball, frisbee golf, hiking, mountain biking trails can be enjoyed here. It's one of the best resorts for fishing too.
Note: Voyaguers National park will make you see and photoshoot some amazing wildlife.
5. Ruttger's Bay Lake Lodge (Deerwood)
Address: 25039 Tame Fish Lake Rd, Deerwood, MN 56444, United States
Ruttger's Bay Lake resort is the best family resort in Deerwood, Minnesota. It's a family run resort and located at a distance of around 19.5 miles from Brainerd Lakes Regional Airport. There are 2 golf courses, outside and inside pools, day program for kids, rental watercraft etc. The resort has its own private beach that you can enjoy. It's one of the perfect weekend getaway for families and couples. Lodging facility is really good here. You can choose between villas/condos/cottages/black bear house and few other types as well. Events are also organized at this resort. You should check their events section in advance to make the booking. You can also look out for garden tours, tennis mixers, golf clinics, fishing tournaments, water skiing, knee boarding, pontoon cruises and daily family activities to participate here. 
6. Kavanaugh's Resort (Brainerd)
Address:
1685 Kavanaugh Drive, Brainerd, MN 56401, United States
Kavanaugh's resort is the number 1 resort in the Brainerd region. It's located around 11.7 miles from downtown Brainerd. It's a year round resort between Dade and Sylvan Lake. 1 to 3 bedroom cottages and condos are available here with all amenities like free wifi, cable tv, kitchen, gas fireplace and few of them offering lake or pool views. It's also includes indoor pool, spa, gym and game room. Basketball courts, tennis courts, volleyball, snooker, paved walking/biking path and ski trails are also here for you to enjoy. Golf across the road, horse riding and fishing add more excitement to your stay.
7. MapleLag (Callaway)
Address:
30501 Maplelag Rd, Callaway, MN 56521, United States
MapleLag lakeside resort is considered as one of the best for cross country skiing in the Callaway region. There are number of events being organised here from time to time. People visit this resort mainly in the winter to enjoy the skiing. There are beautiful ski trails along with helpful staff. Mountain biking is also one of the things to enjoy. The rates at this beautiful resort is applied according to the age which is divided into 3 categories. Check their website for more detail. They organise marriages too in case you want to get married again 😉 It's a perfect resort to spend few days to enjoy.
Tip: There is a 10% discount for families. Simply ask for it while booking as their website says. =D
8. Gooseberry Park Resort (Two Harbors)
Address:
2778 MN-61, Two Harbors, MN 55616, United States
Gooseberry Park cabins and motels is located 3.4 miles from Gooseberry State park on the shores of Lake Superior. It's located 10.8 miles from downtown Two harbors. You can book rooms with attached bathrooms, free wifi, Tv, coffeemaker, microwave, mini fridge along with living areas having sofa beds and kitchen. Free parking, shared gas drills, lakeside fire pits and picnic tables are few other amenities available at Gooseberry park resort in Minnesota. There are number of events being organised by the resort. Book in advance as they tend to fill very quickly for events. Have a nice stay in Gooseberry.
Note: Pets are not allowed. Cabin 5 and 6 are not available throughout the year.
9. Grand Ely Lodge (Ely)
Address:
400 N Pioneer Rd, Ely, MN 55731, United States
Grand Ely Resort is located between Shagawa and Miners Lake which is 0.8 miles from downtown Ely's. Free wifi, TV, Microwave, coffeemaker,mini fridge, whirlpool tubs, pull out sofas and bunk beds are available at this restaurant. There is a restaurant for kids in which they can have snacks for free. You can enjoy the complimentary use of fishing equipments, snowshoes, bikes, indoor pool, sauna, game room and watercraft. Green Ely Lodge is also know as event holding place. Rooms are colourful and room service is available for limited hours. Have a nice stay at Grand Ely and do share your reviews here.
10. Dickerson's Lake Florida Resort (Spicer)
Address:
13194 2nd St NE, Spicer, MN 56288, United States
Dickerson's Lake Florida Resort is built on the shores of Lake Florida which is 6.1 miles from Spicer and 11.8 miles from Willmar. It's considered as one of the best resorts for family and couples in Spicer. Low key cabins are available with all the basic amenities. You can make use of free kayaks, paddleboats, hydrobikes and canoes. Amenities also include free use of bikes, tricycles, toys and wagons. On the top of these things, there is a sandy beach and a playground for you to enjoy fully. A beautiful view of the lake from an awesome cabin will surely make your day.